CE 50w 500ma 700ma Constant Current LED Driver Power Supply
smt-050cmt is a led driver power supply con salida de corriente constante de múltiples etapas; permitiendo que se use una sola unidad para aplicaciones con potencial para múltiples niveles de corriente, como los diseños de iluminación de estilo de proyecto. los niveles actuales,700 ma, 850ma, 900ma, 1050ma, 1150ma & amp; 1250ma, 1300ma, 1400ma, are easily switched by adjusting the built-in DIP switch. y fue diseñado para trabajar con atenuadores triac de vanguardia, como lutron, c-bus, clipal, etc.
What LED Driver Power Supply Smarts Electronics do?
Answer:
Las fuentes de alimentación de iluminación LED de Smarts Electronics están disponibles en rangos de 6w a 600w y vienen en muchas formas diferentes para instalaciones de iluminación LED tanto en interiores como en exteriores. nuestra gama de fuente de alimentación de iluminación led de corriente constante ofrece corrientes de 300ma a 2100ma; mientras que el rango de fuente de alimentación de iluminación led de voltaje constante comienza en 5v pasando a 48v.
Cannot see the LED Lighting Power Supply que estas buscando? use la búsqueda de código de producto en la parte superior del sitio para buscar por una parte específica o use nuestra búsqueda avanzada de productos para ingresar requisitos de especificación específicos.
Model

smt-050ctm

salida

Rated current

1400 mamá

1300 mamá

1250 mamá

1150mA

1050 metroA

9 9 00mA

850mA

7 0 0 0ma

tolerancia actual

± 5 5 %

DC Voltage

10-36 v

10-38 v

10-40V

10-43 v

10-48 v

10-50V

10-50V

10-50V

potencia nominal

50,4 w

49,4 w

50W

49.45W

50,4W

45W

42,5W

35W

entrada

Rated Input Voltage

170-265VAC

frecuencia nominal:

47 -63HZ

Factor de potencia

pf ≥0. 65 / 170vac pf ≥0.65/230VAC PF≥0 .65 / 240vac (carga completa)

eficiencia de carga completa (típ.)

8 1 %

8 1 %

81%

8 1 %

81%

82%

82%

82%

AC Current(Max.)

0.96a

0.94a

0.95A

0.94a

0.96A

0.85A

0.80a

0.66A

corriente de fuga

& lt;0. 5 50mA

Protection

cortocircuito

Hiccup mode, recovers automatically after fault condition is removed

tensión de salida sin carga

52-60v

Over Load

≤120%

Protection Class:

yo yo

reinar-

ment

Working TEMP.

-40 -+60℃

humedad de trabajo

20 - 95% de humedad relativa, sin condensación

Storage TEM. Humidity

-40 -+80℃ ,10- 95% de humedad relativa

TEMP. coefficient

± 0.03% / ℃ (0-50℃ )

vibración

10-00Hz, 5g 12min./1 ciclo, período de 72 min. cada uno a lo largo de los ejes x, y, z

seguridad & amp; emc

Safety standards

ul8750 + ul1310

Withstand voltage

I/P-O/P:1500KVAC

resistencia de aislamiento

I/P-O/P : 100mΩ / 500vdc / 25 ℃ / 70% de humedad relativa

EMC EMISSION

en55015, en61000-3-2,3 (≧ 50% de carga)

EMC IMMUNITY

fcc parte 15 b

Others

peso

0.32 kg

Size

178 * * 61*24 mm( l * w * h )

packing

cartón exterior :290*215*240mm 20PCS/CTN g.w: 7.5kg / ctn

notas

1. Todos los parámetros no mencionados especialmente se miden a 2 3 Entrada de 0vac, carga nominal y 25 ℃ de temperatura ambiente.

2) tolerancia: incluye la tolerancia establecida, la regulación de línea y la regulación de carga.
50w conductor llevado actual constante especificación mecánica: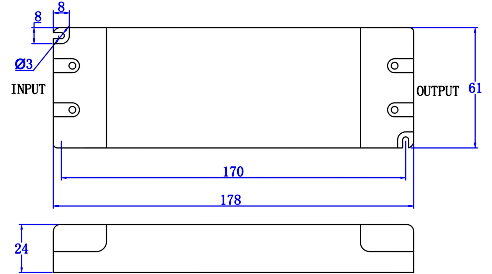 Ø entrada con cable con corriente alterna (l), cable neutro con corriente alterna (n)
Ø salida led sec salida positiva (led +), salida negativa (led-). conectado a lámparas led.
Ø Suggested wire diameter:Input 18-14AWG; Output: 20-14AWG
Nota: asegúrese de conectarlos correctamente, de lo contrario su producto no funcionará correctamente y podría dañarse
Derating Curve for conductor llevado 700ma: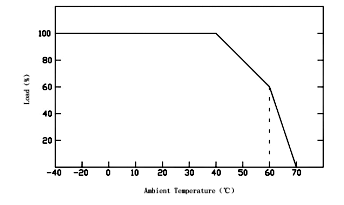 diagramas de conexión del controlador led regulable triac